This delicious treat is has the added benefit of being much lower-calorie and "bikini friendly" than a regular slice of pizza...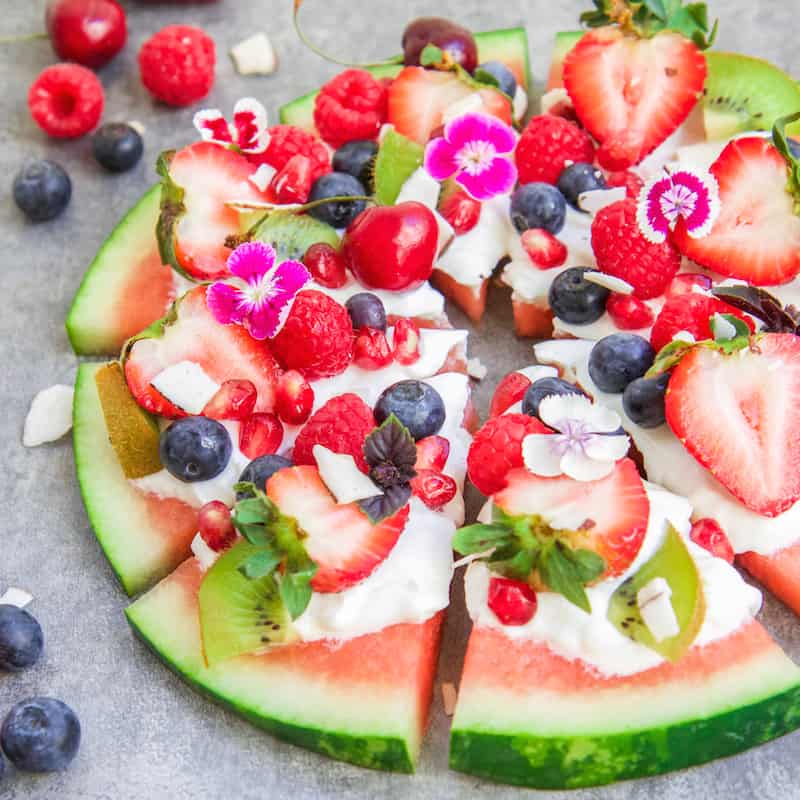 It's national watermelon day! If your anything like me when you think of summer, you think of watermelon.
There's nothing like a good slice of refreshing, thirst-quenching watermelon on a hot day. While a regular slice of watermelon is perfectly good, it's also fun to spice it up sometimes.
This watermelon pizza recipe is fun, easy to make, and will be a hit amongst everyone! (I mean, who wouldn't want a slice of watermelon pizza?!)
This watermelon pizza will quench your thirst, is loaded with electrolytes, has some added protein from the yogurt, and topped with vitamin-rich fruit.
It also comes together in less than 10 minutes! Serve this watermelon pizza at your next picnic, or serve it up for a healthy dessert.
WATERMELON PIZZA
A healthy dessert "pizza" recipes topped off with yogurt and fresh fruit!
---
INGREDIENTS
1

watermelon

1 cup/250ml

coconut yogurt (or greek yogurt for non-vegan)

1/2 cup/125ml

strawberries, sliced in half

1/2 cup/125ml

raspberries

1/2 cup/125ml

cherries

1/2 cup/125ml

blueberries

1/2 cup/125ml

pomegranate seeds

honey or maple syrup (optional)
---
INSTRUCTIONS
Using a sharp knife, cut off a slice of watermelon right down the middle, about 2-3 inches/5-7 1/2cm thick.

Using a spatula, spread an even layer of your yogurt around the watermelon leaving a bit of empty space at the top. (where your "pizza crust" is.)

Layer your fresh fruit on top as you please. You can add as little or as many toppings as you like!

Drizzle with honey or maple syrup for a little extra sweetness if desired.
---
NOTES
Use a sharp knife to cut the watermelon, to get nice even cuts.
Use any berries or fruit you love to top of this watermelon pizza
personal chefs and event catering
Miami + Miami Beach + Fort Lauderdale + Palm Beach
fort lauderdale catering and personal chefs